Love Lotus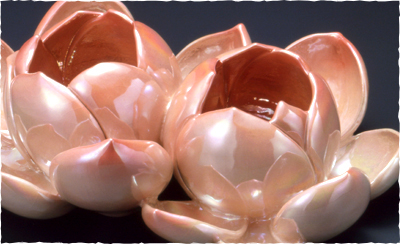 Street Museum
2 Chome, Sannomiya Center-gai, Kobe
Love Lotus Flowers have bloomed in Kobe.
The city of Kobe was destroyed by the Great Hanshin-Awaji Earthquake of 1995, but, thanks to the wisdom and vitality of its people, has truly recovered.
The lotus has been a symbol of vitality and regeneration since ancient times. It has also been said to represent purity of heart.
This double-headed lotus is an auspicious flower that symbolizes love and harmony.
I created this piece with love in the hope that everyone who lives here, and everyone visiting this area, can live active and spiritually fulfilling lives.
Hanako Miwa